P. Hi guys, I'm living in Georgia (the country), and I miss you
P. I know we said we'd always have Kiev, 
but perhaps we could have Tbilisi as well?
Date
8. – 15.7.2016
Locations
Tbilisi – Kazbegi – Juta – Stepantsminda, Georgia
via Riga and Tallinn (had to come back via Tallinn since we missed our connecting flight to Helsinki in Riga)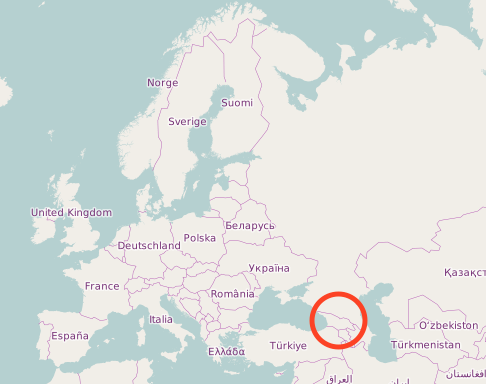 Accommodation
Tbilisi: Friend's apartment in Old Tbilsi
Jut'a: Zeta camping
Budget
* 2.5 Georgian Laris were about 1 euro at the time. (including 2€ + 2.5% withdrawal fee)
Flights: airBaltic, Helsinki-Riga-Tbilisi-Riga-(Tallinn)-Helsinki 340 € (flights were little expensive because those were booked late)
Day budget: ~30 € , including:
Food (2 – 5€ per meal)
Drinks (soft drinks, chacha (local booze) ,beer (local), wine (local): 0.80 – 3€ per glass)
Taxi (4€ / ~10km)
Long-distance minibus (4€ from Tbilisi to Stepantsminda, 150km)
A bed in 6-bed dormitory room at Zeta Camping in Juta, Georgia (12€ / person)
Borjomi 12 pack, the greatest mineral water in the world (3.6€)
Cigarettes (0.90€ / 20-pack of Pirveli (local brand))
Excluding some of the more "expensive" stuff considering the price-range in Georgia
Bassiani with Oscar Mulero and Zitto (12 euros entrance fee from the door)
Drinks at Bassiani – Beer: 3.5 euros & Coctails: 5 euros
Imported multi-vitamins (15 euros for 28 days supplements)
Random stuff from the airport duty free (Wine – ChaCha: 11€ / bottle, Cigarettes: 20€ < / 200)
From Helsinki to Tbilisi
Me and my friend Niklas Started our journey from Helsinki-Vantaa on Friday evening. There are no direct flights from Finland to Georgia so we had to fly via Riga, Latvia with airBaltic, another cheap or reasonable price option would be flying via Istanbul, Turkey with Turkish Airlines. If you have extra bitcoins in your wallet, I recommend using airBaltic since they seem to accept bitcoins nowadays.
It seems that quite many flights departs and ascends from/to Tbilisi during the night time and a good thing is that the airport and all shops and services in Tbilisi are open 24/7, so it doesn't matter what time your flight leaves or arrives. Although if you fly during the night time, be prepared to pay for a Taxi.
When we arrived there was no taxi available, so we had to take a gypsy cab, and paid 8€ / person which was no problem (normally around 4€ / person) but the journey got a bit more exciting after the cab driver accelerated to 120 – 180 km/h in suburbs, turned on some traditional georgian music to max volume, lit his cigarette and welcomed us to Georgia! He was also happy to hear that we're from Finland, "Finland, my friends!" I really hoped he would watch the road instead of us. So amazingly we made from airport to Freedom Square within record time of 15 minutes and didn't die 😀
Tbilisi
The city has some very good vibes, especially the Old Tbilisi area. I really enjoyed the architecture there since it's like exploring some kind of Wonderland. The most of structure is made of wood and many buildings and balconies are connected to each other with stairs and bridges, this makes going for example to a local mini-market more exciting since it feels like an adventure finding different paths and stairs to the destination.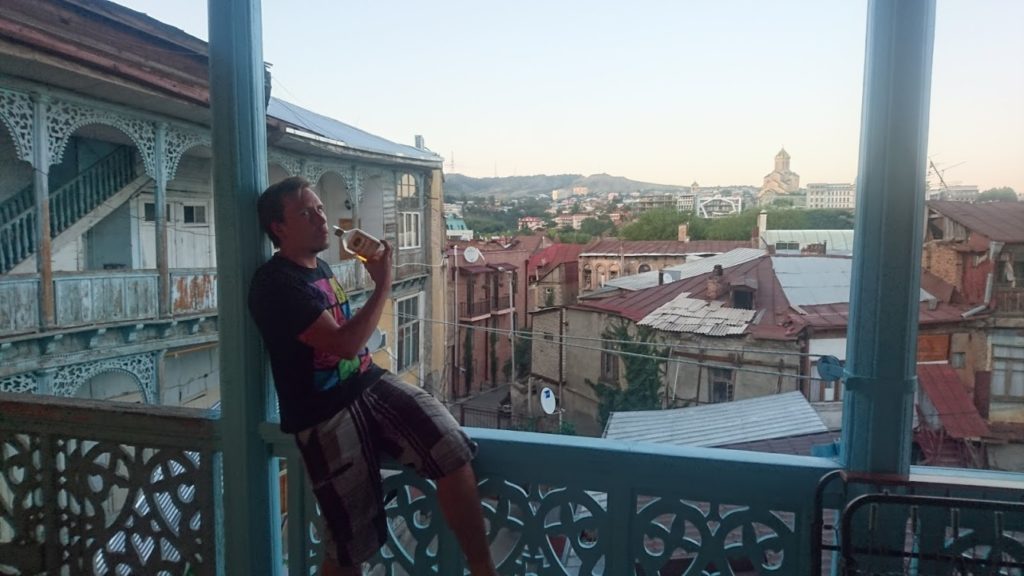 Drinking some Jallu in the heart of Old Tbilsi (Jallu around the world)
There was a lot of walking around the city and you could notice many subcultures in all streets of Tbilsi; from music and graffiti art to culinary shit including wine tasting. I was specially amazed to hear so much good underground electronic music in various outdoor terraces and locations.
My favourite terrace&bar in Tbilisi is Canudos Ethnic Bar because it differs from others with its liberal, happy and real-shit atmosphere. Even customers and owners are from different countries and have probably different religious views, all seem to share the same philosophy that I do: Peace, Love, Unity and Respect. Drinks are cheap, so you can enjoy a local beer or Chacha with 1,2€, outside admiring this amazing fountain in the centre of the terrace or just sitting inside and listening to awesome music.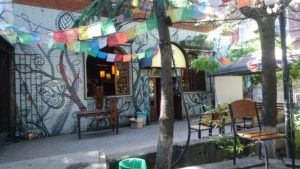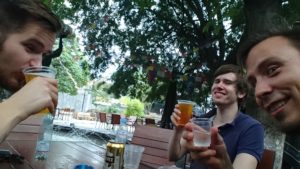 Canudos and some drinks with my friends
What the hell is Chacha? (the shot glass that I hold in the picture)
"Chacha (Georgian: ჭაჭა [tʃ'ɑtʃ'ɑ]) is a Georgian pomace brandy, 
a clear and strong (ranging between 40% alcohol for commercially 
produce to 65% for home brew), which is sometimes called "vine vodka", 
"grape vodka", or "Georgian vodka/grappa"." -Wikipedia
It was time to try the local apéritif at Canudos, so I had my first ever shot of Chacha (with lemon) in my hand and sniffed it… the smell was horrible because it reminded me of really strong washing powder or chlorine. I thought I was actually going to puke if I drank the whole shot so I had to take carefully a half-shot first to get to use to of the taste. The taste was even worse than the smell, had to hold the booze in and drink the remain half. My stomach and insides were burning a bit at this point but I held the booze in and after a minute actually felt quite good, and in the weird way wanted to have some more Chacha. Yes, I bought a bottle of Chacha from the airport on the way home.
A night of techno
There was a party organised on Saturday night while we were in Tbilisi. Bassiani is a local underground techno label and a collective that seems to run the techno scene of Tbilisi. Oscar Mulero and a club resident called Zitto were playing at the party that was organised in the venue which was surprisingly located under the stadium (Dinamo Arena), the venue was f**king awesome! I have heard such a great acoustic in only few places before but not as big as this one. The venue had funktion-one audio system which was pure diamond for my ears and the light show with dozen of moving heads, led-screen and strobes were amazing.
Short caption from the party – Oscar Mulero playing
*Update 16.8.2016* I just read the featured article on RA "Tbilisi and the politics of raving" written by Will Lynch. The article brought up some heavy emotions and I found out some facts that I didn't even realise before this day. I strongly recommend reading the whole article to understand the big picture. https://www.residentadvisor.net/features/2666
From Tbilisi to Kazbegi
The cheapest option to get from Tbilisi to Kazbegi is to take a minibus from Didube (a bus station near the metro station.) Minibuses from Tbilisi to Stepantsminda (Kazbegi) costs 4€ (10 laris) per person, and you better arrive early since the minibuses are quite often fully booked, especially during the season. For me the trip was an extreme pain since the bus was fully booked and I had to take the backseat. There wouldn't been any problem bouncing around 2.5 hours at the backseat of the minibus while the driver smokes his cigarette, drives 100km/h on a narrow mountain road, passes a crash site where a car drove off road and was totally destroyed by the fire and a guy laying on the road. The problem was that I had a scar on my knee and the backseat has such a little little space that if you're not a midget, your legs will be crushed or in my case the scar caused some serious pain. When we finally arrived to Kazbegi area and got off the bus I couldn't feel my legs for a while and so our trek to Jut'a had begun.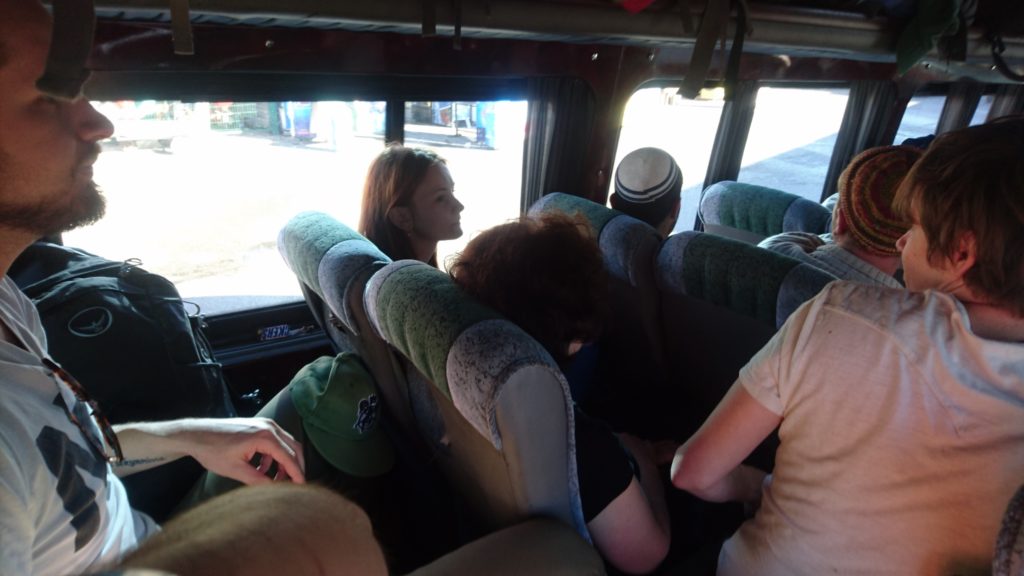 Not much leg space available at the backseat
Trekking to Jut'a
We started the journey from a small village called Achkhoti აჩხოტი (elevation: 1250m) and it took us around 7 hours to get to the top of Jut'a – Zeta camping area, which is in an altitude of 2300 meters. It felt like an orgasm to lay down at the top. I'm not going to describe how awesome the hike was because this is just something that everybody should experience on their own without prejudices. Although I'm going to tell you about a small side quest we experienced on our way.
We accidentally met this old Georgian man and his babushka on our way to Jut'a. The old man asked if we were interested to hike a bit offtrack to his family's sacred place to have a cake and a homemade black wine. We agreed to hike with him since unfortunately his wife wasn't in proper condition to climb few hundred meters to the place. He only spoke georgia and russia so couldn't understand anything but luckily my friends were able to translate me some of that he spoke (in russia) on the way to the place. We hiked for few hundred meters to side mountains and there was a small monument that looked like a fireplace made out of polished rocks. So he asked us to sit and who was the youngest of us, the youngest one should pour the wine in two shot glasses. The old man pronounced some holy words, lit pray candles and then it was time for black wine shots and a cake. It was very nice experience, although the old man only drank one shot since he was driving and insisted us to have more than 7 shots per person. After the ceremony we thanked him and his babushka for the time, wine and cake; and continued our journey with a good buzz. Few ours later I had a quite bad headache, not sure if the reason was the elevation or the wine 😀 so probably not that good idea to start drinking in the halfway of the journey.
Zeta Camping in Jut'a
Few cabins, tents, bar/cafe and incredible scenery and beautiful green nature, what else could you expect? If you hike during Summer, it may be pretty warm or even hot during the daytime and it gets quite cold during nights, so be prepared with proper clothes. The sun is also extremely powerful, so better cover yourself or use suntan lotion, otherwise sunburns will be expected. I have a good base tan but still got a bit burnt.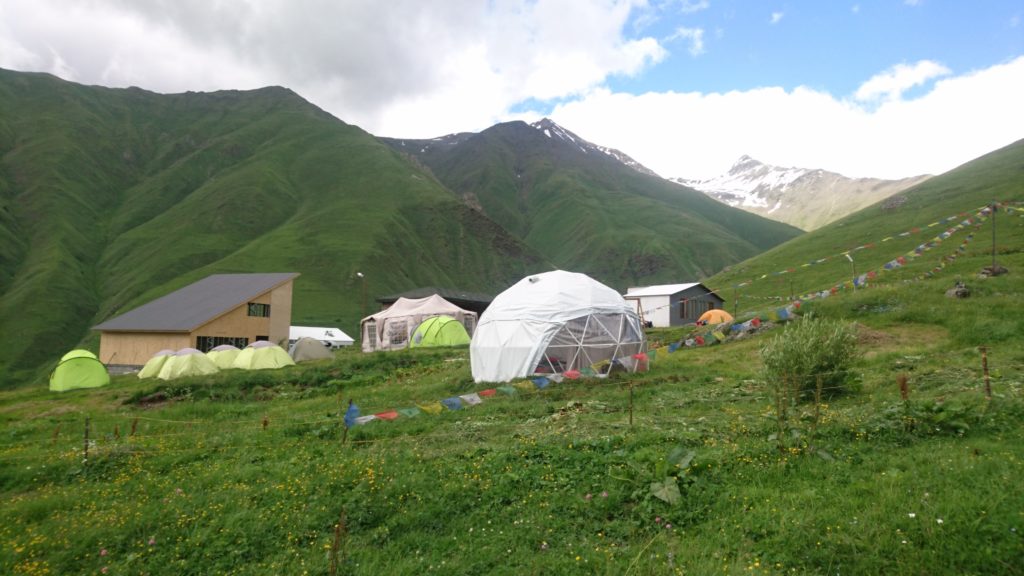 Zeta camping in the altitude of 2300 meters
A week in Tbilisi is enough but not in Georgia and Caucasus
The week was long enough to see around Tbilisi and also for a small hike in Kazbegi but still much more to see around. I would be interested to see Borjomi and Batumi in Georgia; also surrounding countries Armenia, Azerbaijan, Iran, Turkmenistan, Uzbekistan and Kazakhstan. I'll have to reserve more time next time I travel to Caucasus.
Huge thanks to my hosts Preben and Naya! Preben is a friend of mine from Norway. We met first time in Kiev, Ukraine in 2012, and been in contact ever since. Hopefully I'll see him in the future as well!
Preben and Naya are developing an app called Tripfinger which is a very useful app if you like to travel and get information easily. Especially at the moment if you travel to Caucasus, you'll get the most out of your trip with the app. I'll write full review as soon as I get Android version in my hands.
I hope they would soon add more countries and make the app available for Android.