34 days left till the journey, 28 days till the last day of work.
np. Groove Armada - At the River
Resignation
I need to correct what I wrote earlier on my post: "Sabbatical leave (or a career break) would define perfectly what I'm actually doing." A year is a long time which is why I had to resign my contract of employment on Monday; no problem, I totally understand the reason why. I felt really bad for the first few hours but then I realised that this might be actually better from my point of view. A good friend of mine wrote to me (in Finnish):
<mmon`> no parempi noin? Eiköhä se o parempi jos ei vaik 
kiinnostakkaan men takas
<mmon`> ei anna mitää turhii "lupauksii"
Translation: Better this way? I'm not obliged to return my job by the end of the RTW if not interested anymore; also not giving any empty promises to the company.
At the moment I would be interested to write a new contract after I'm back but you never know how things are after a year. The contract of employment wasn't the only one that I resigned; also resigned the lease of my flat, the electricity contract and old insurances so this all feels pretty much like a fresh start. I have done similar move few times earlier in my life:
Skipped a year before going to comprehensive school and moved to U.S to babysit my sister's new born child; and also spent a summer in UK
Moved to Helsinki out of my parent's house to study
6 months of ERASMUS exchange in Liverpool
Packing: mandatory supplies
The problem is that I hate things to pack or even carry in general which is why it's quite difficult for me to pack all necessary stuff with me.
Lets start with the most important piece of an equipment: the backpack! I ordered Osprey Porter 46 from Scandinavian Outdoor and waiting to get it within few days. I don't have any idea on how useful or even comfortable the backpack actually is since I didn't have chance to try it before buying it. My original plan was to buy Osprey Farpoint 55  but then I saw the backpack in real life and realised that it was too big (the frame of the backpack) to take as a carry-on luggage.
I got a hint from my best friend about Porter 46 and watched the following review from Youtube and thought the backpack would be perfect for me (size and usability.) My own review will be available in 6 months 😉
I also bought Sea To Summit Ultra Sil Day Pack as seen in the end of review. It's going to be very useful as a day pack and maybe as some extra luggage space if my porter 46 gets too full or if the backpack needs to get checked in.
What about packing cubes? I didn't want waste money on space consuming travel cubes which is why I bought roll up vacuum storage bags and 6 pc set of travel pouch. I think these items will do the same trick with less money; help packing and separate the stuff for easier access.
Plan enough or plan too much?
I have spent some time planning the RTW in various places like the secret location in the featured image of the article (amazing view of the scenery.) The question is which one of the following topics matters the most?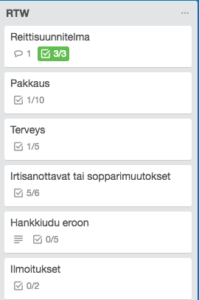 A caption of my Trello
Translation: Initial route planning, packing, health, contracts to terminate, stuff to get rid off and public notifications.
Initial route planning
When and where to go? The most important part is the decision to go! I don't think it really matters where to go first as long as you're seriously deciding to go somewhere for ??? long time. I have decided to go to Africa first and probably head to east after that. My plan is to travel for at least a year. Read more on my previous post.
Packing
I have written some details of mandatory items earlier in the post but the whole packing list will be a bit bigger. Full packing list includes: Electronics, Clothes, Documents, Currencies etc.
I'll write about the full packing list and details of it in the following article.
Health
Necessary vaccines, prescriptions, dental, medicines and basic health check. It's necessary to map out some basic continents where are you heading to get necessary vaccines. I'll travel with quite common vaccinations: Hepatitis A+B (Twinrix),pertussis – diptheria – tetanus – inactivated poliomyelitis vaccine (Boostrix-Polio) and yellow fever (Stamaril.) I also got 30 days set of malaria prophylaxis (atovaquone+proguanil = malarone) from my friend Preben. Malaria prophylaxis is mandatory only in some certain areas of Africa where I'm probably heading.
I'll also need to get an emergency kit of antibiotics (probably Amoxicillin.) I got aggressively violent diarrhea and high fever during my previous travels in India in 2014. There were no doctors within ~50 km where I was and it was my only choice to eat the emergency kit of antibiotics. Luckily the antibiotics worked almost immediately and I was able to walk within 24 hours and eat within 48 hours. I seriously though that I was going to die since I had such a horrible cramps of the pain; the sheet under me got ripped in pieces.
Contracts to terminate
The flat, job, electricity, insurances, mobile/internet and gym membership.
Stuff to get rid off
I have a storage unit in a province of Finland and I'm going to store the most of my stuff there. But there are also the stuff that I'm not going to need anymore and need to get rid off.
Public Notifications
Change my address in Finland and permit another person to take care of legal maters for me if I'm not able to.
This is it for now but I'll post another article within few weeks.