15 days till beginning of my round-the-world trip and time is running out. I'm feeling a bit terrified of the situation but still excited at the same time. I want to dedicate this post to all my friends, family and a beautiful city called Helsinki. It has been my home for the past 9 years; and still my favourite city in Finland. I know when ever I decide to come back there's an opportunity to have a fresh start here.
What's going on?
Every day I have less things to do before I leave but still feeling that I'm behind the schedule. It must be a stress from organising all the pre travel shit. More often after a day of work I feel like I should do something even there is "nothing" I can or need do at the moment.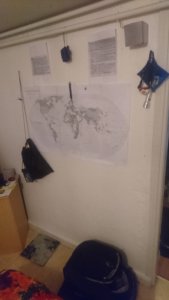 A picture of my bedroom wall aka the wall of RTW
Yes, I have "all" the supplies for the trip and have almost everything else prepared for the final countdown. Within few weeks pretty much everything in my life is going to change so I'm going to enjoy these last weeks with my friends and family.
I Love Helsinki
It would be nice to write a full review of the city but there are already too many articles of Helsinki which is why I'm going to summarise my thoughts.
I love the city with its people and unique atmosphere; from various outdoor and indoor activities to countless subcultures. Helsinki has it all: foods, drinks, architecture, shops, museums, parks, universities, nature, beaches, saunas, bike paths, gyms, cafes, bars, music, events, night clubs and the whole scene!
The best thing I can do is to share these two articles, one in Finnish and another in English which describes my feelings of Helsinki.
The scene is not the only thing that interests me in Helsinki but still it's a major part of my whole identity. 🙂