After staying for two nights in Knysna, it was nice to get back into the nature again. This time I stayed in Wild Spirit Backpackers which is located in The Crags – Nature's Valley.
While I was in Wilderness, I met Hannes who's a great guy from Switzerland. He's travelling solo for one and a half months in South Africa. We had some nice time in Wilderness – so we decided to meet in Wild Spirit again.
Knysna
I saw the most of the city centre, Thesen Island and Judah Square which is Rastafarian community near by. There are not too much to do around in Knysna but it was nice to chill and see around for two days. I stayed in Island Vibe backpackers which is a good place for two nights sleep and Braai; accidentally ended up in a bar with a local worker who's painting a house in Thesen Island at the moment. He showed me some secrets of gambling with slot machines in South Africa.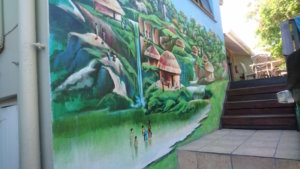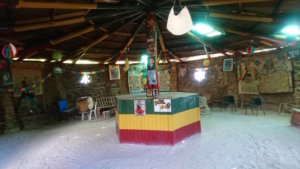 A man with 40 wives and a tabernacle (church) @ Judah Square
While you're in a city or town with shops around; it's also good time to check your equipment, banking (ATM), food, water etc… and that was also what I did. The biggest problem is that I don't have a proper day backpack at the moment so that's something I have to look for. I've been using my day to summit light bag but I think it's more of a beach bag rather than proper day backpack.
Wild Spirit, Nature's Valley
I arrived to Wild Spirit on Thursday evening and stayed for four nights. There are many things you can do around. I did a lot of hiking and bungee at the Bloukrans Bridge which is the world's highest commercial bridge bungy at 216 metres above the Bloukrans River.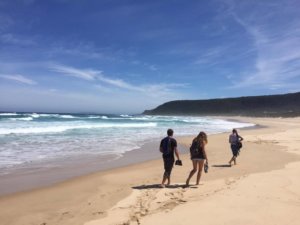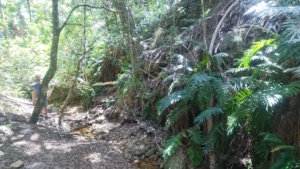 Deep in a forest of and beach hike @ Nature's Valley
Wild Spirit is a good place to be creative and join drumming circles held around the fireplace. There are many places you can meditate and a yoga studio. Wild Spirit offers many options on accommodation; you can camp, stay in dorms, private rooms, a tree house, safari tents etc. The view of the scenery around is an indescribable. The nature is beautiful and local people – volunteers are friendly. The only thing that bothered me at the time I was staying; the most of the people around went to sleep and woke up quite early. I'm more of a night person, so not much to do around after 10 – 11 while travelling solo.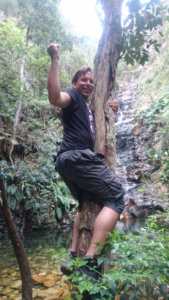 Some thoughts after 3 weeks of traveling
It has been some of the best time of my life traveling around SA but I recently had my first travel depression for few nights. It was nothing that I couldn't cope with but annoyed that it happened now and here in the beautiful scenery of Nature's Valley. I think it's normal to feel this way every now and then; it's also good time to learn a bit more of yourself. I had some of the following questions stuck in my head:
What am I doing here?
Was it actually right decision to leave my previous life and use all my saving on this?
I wonder what my friends and family are doing at the moment?
Why can't I enjoy the moment?
Answers:
Experiencing everything new and exciting around
Yes! There'll always be a way back home and money to be earned.

How much we actually need poverty? Should we maybe consume and own less?

Not much – some food, water and a roof over your head and yes, I think we should consume less.

My friends and family are probably hanging out somewhere and doing things they enjoy.
Stop thinking too much and try to reboot your brain with meditation. Remember to chill!
The answers may not be this simple but helps me to cope. This'll not be the last time I experience travel depression or any other adversities – so it's better to recognise symptoms, and experience things how they are. I'm happy at the moment and waiting to get a ride to Port Elizabeth from where I'll continue to Chintsa. (550 kilometres)