Tuesday 11th of October. I was thinking of not writing this much but it's cold and rainy now in Knysna, so I had an great opportunity to write some of my previous days here in South Africa.
I have been travelling for 2 weeks now and I feel even more thrilled and happy now than before. I had such an awesome time in Mossel Bay and Wilderness, and decided now to continue my journey to Knysna, South Africa to have a quick pit stop here before continuing to Wild Spirit Backpackers located in the Crags / Nature's Valley.
The last day in Mossel Bay
It was a nice and sunny day in Mossel Bay which is why I decided to run St. Blaize trail. I ran out of water at some point in Pinnacle Point why I took off the trail to find a shortcut to a shop. I accidentally ended up in the middle of the township called Boplaas. I think people were staring at me for what the hell I was doing there. There was not much going… people were just coming back from work and someone was trying to sell me some psychedelics. No, I didn't buy any, just smiled and continued running.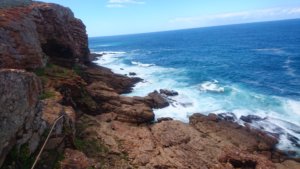 As I wrote earlier on my post, later that evening I shared a great night of karaoke and supper with locals Heather and David in a next city called George. The night was success. David grilled us some chicken and Heather made us some potato salad. We enjoyed our supper while listening and singing some karaoke.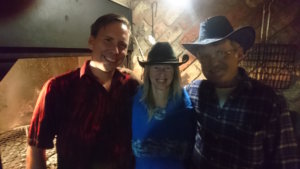 From Mossel Bay to Wilderness (about 50km)
I arrived to Wilderness on Saturday afternoon and met the greatest guy ever named James. He's originally from Johannesburg and living in Cape Town nowadays. James was travelling in Wilderness so we shared some great moments fishing, hiking, kayaking, braaing (grilling) and chilling. James also taught me the basic rules of rugby so I can now watch games and understand what's actually going on. 😀 We watched a game on Saturday, which was South Africa against New Zealand. South Africa lost the game with score 15 – 57. The game started OK but the end was total devastation for SA.

It's impossible to describe how free your soul feels after staying for few days in Wilderness. Even though all of my clothes smells like a fire place and I feel like sun burnt, these past days have been gold. Fairy Knowe Backpackers where I stayed, is located just next to Wilderness Nature Park so while you're sipping your morning coffee, you can enjoy the view of the nature park and forget all about your troubles and stress. There are many activities you can do around. I would definitely recommend hiking a trail to the waterfall close by which is about 3 hours hike by walk. You can also hire kayak (250R – ~16€ for double seat kayak for a half day) and go till half-way and continue to the end by foot.
Getting around in South Africa
I'm travelling solo which is why I decided to use Baz Bus to get around in South Africa easily. Like a good friend of mine told me: it's a touristic way to get around but if you don't have a car, I think it's the best option you have. You don't need to hassle about transportation, especially if you want to stop more places (coast-to-coast) and see around. Baz Bus is an easy option to travel from backpackers to another since you can hop on and off as much as you want. There are many ticket options you can choose from. I'm heading all the way to Joburg which is why I bought the one way ticket with unlimited time (only one way) to spend on the journey.
If you have more time to plan and find company to share a ride, I would definitely recommend hiring a car. I think my journey gets more difficult after getting to Joburg and after I probably start to head deeper in Africa.
From Wilderness to Knysna (about 50km)
I just arrived few hours ago here and there are not much to do here in weather like this. I hope that the weather would change a bit for tomorrow so I can see what Knysna has to offer to me. Now it's time to finish my last beer for the night and head to bed.