I have been enjoying the good vibes of Cape Town and South Africa. The following article will contain some of unedited captions of my past days in here.
Day 3 THU
I wasn't expecting much to happen on my second night in Cape Town but I accidentally ended up partying in a local venue called Ganesh. DJs were playing all sorts of music including afrobeat, house, rap, soul, zutu and some other African rhythms. This was rather nice experience considering the atmosphere and the songs were not from the top chart. Like I used to say in London: "This is the real shit!"
I also had some really deep conversations with the locals on my way back to the accommodation. The nice thing was that I got the rest of my journey blessed because of my good vibes. 😀
Day 4 FRI
I took the train from Observatory to Muizenberg on Friday to cure the small hangover I had. The scenery was magnificent, and you could see people surfing and enjoying the beach. So I had nice few hours laying on the beach, listening to some chill music and watching people surf, also thought that surfing would be something that I want to learn at some point.
Travel tip! Local trains in Cape have two classes (Metro and Metro+), these both are cheap options to get around. I had a return ticket Observatory-Muizenberg in a second class which costs 13,5R at the time (less than euro.)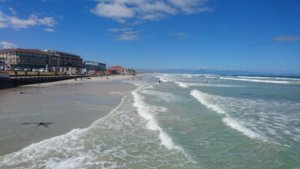 After I got back, found myself sharing BBQ with some germans, after the BBQ I ended up in Blackout party at the bank. My plan was not to go out but one thing led to another; so I came back home at 4 AM and I have to say I was pretty damn tired after I finally got to bed at 7 AM 😀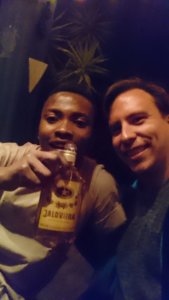 This was the most beautiful song that I have heard for a while chilling at Observatory, 6 in the morning. (Zimbabwen music)

Day 5 SAT
Me, Simba and Pamela went to the old biscuit mill for Saturday market, unfortunately we were a bit late since the market takes place from 9 to 2 'o clock, and we were there at 3.
So we decided to go to see the Waterfront near the harbour. Had some lunch and a beer. We were trying to look for Cameroonian food which is why we wondered to African mall/market on Long street. Didn't find Cameroonian food but found all other cool stuff there. Only if I would be on actual vacation, I would buy all different cool things to decorate my apartment.
Day 6 SUN
Sunday fun day! I got invited to have a lunch at local student housing in Observatory. As we didn't find Cameroonian food in the centre, Pamela made me and Simba some lunch, we had a traditional Cameroonian meal with all sorts of different foods on the table. The food was nicely spiced and very tasty. After the lunch we went to the lagoon beach. I finally got a bit colour on my skin.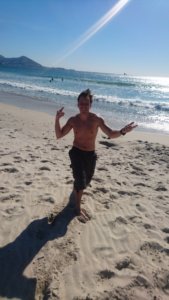 Pamela is from Cameron and studying in Cape Town at the moment. As Pamela is also doing modelling in the side of studying, she was happy to pose to my camera.
Here is also one of her past studio photos: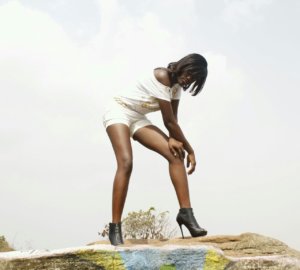 Yes, she's very beautiful woman.