I had to make a sad decision to leave Cape Town and head down to Mossel Bay. If I'd stayed in Cape Town for any longer, I would have been stuck there forever. I love the city with its great vibes and I will definitely visit the city again at some point of my life.
From Cape Town to Mossel Bay (400 km)
Mossel Bay is a peaceful small town on the coast of South Africa and a starting point for the Garden Route. A lot of tourism during the high season so it was good idea to come here now during the low season while it's not too crowded. The town is small and feels like a ghost town during the night time but there are a lot of things to do. You can find stores, seafood restaurants, bars and dozens of activities; for example surfing, paragliding, sand boarding, boat rides, hiking, shark diving and so on.
I decided to learn more of the great white sharks in the area which is why I went shark diving. It was a bit expensive (1550R – ~100 euros) which is my two days budget but it was worth every penny. I was in a cage, diving just less than a meter away of the great white shark while it was struggling to get a bite out of a fish head.
I met locals: David and Heather in a local bar and they invited me to join them for a supper and a night of karaoke in neighbour city George which is why I extended my stay here in Mossel Bay by another night. I'm not really a big fan of karaoke but I'm open-minded and I think the night will be a blast. 🙂 Funny fact is that Heather's brother has Finnish wife and he's living in Tampere, Finland nowadays.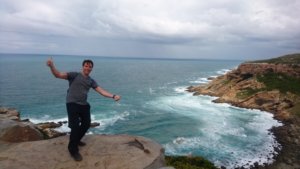 Some random thoughts of travelling
It has been only a week of travelling now and as I thought before I left; it's very easy to meet new people and have random conversations with strangers when you travel alone. There are still some moments of travelling alone that I don't like or not use to, especially if you come to a new place and don't really know what to do or you would like to enjoy a meal out with someone but you're alone. Luckily I have met many new people so the most of the time I have had some company to share these awesome moments.
This all has also the same effect that after a day or two you get to know the place and people around you but then you'll head to unknown again at some point. This is why I think the worst part of travelling is that you meet so many nice people and after some days you'll probably have to say goodbye. There is a saying that you'll always meet people that you know at least twice in your life but I don't really think it's true.
After a week of travelling I have noticed that I'm more happy and relaxed that I was before. I got rid off my long-lasting sleeping problems even though I always share a dorm with many other people and hear snoring before I go to sleep. I also feel more self-confident and ready for a new adventure. Every day you learn and experience something new which is why my brain is storing new information more than ever; languages, cultures, places, routes, names of the people, activities, history and many other things that you experience. I don't feel like being on a holiday, I feel like living my dream… my life.