Following two captions of my travel journal are written in the Wild Coast of South Africa. Let me share some stories and thoughts of my previous weeks.
TUE 25/10/16; after four weeks travelling.
I have been in quite many places recently and haven't had that much time to write. after Wild Spirit backpackers I traveled to Chintsa, Mdumbi and Coffee Bay. Lovely time! I'm currently in Coffee Bay, Sugarloaf Backpackers enjoying my time here and going Durban tomorrow.
FRI 28/10/16; wild drumming party in Durban
In the city! I wasn't sure if there was much to do in Durban before arriving here but it was good thing to expect nothing. I have done quite a lot during these two days here. My travel supplies needed some upgrades which is why I bought a new day backpack and some new clothes. I had a great time with locals and other fellow travellers partying at Happy Hippos and Cool Runnings. I'll take a bus to northern  Drakensberg tomorrow and stay there for three nights. After Drakensberg, I'll continue my journey to Johannesburg.
From Garden Route to the Wild Coast of South Africa
Garden Route is beautiful in total but maybe a bit too European for my taste. There are many nice places to stay, especially lodges located next to the nature; for example The Crags and Wilderness. Garden Route is taken good care of; roads are in good condition, some beaches have shark spotters and the nature is very clean; you hardly see any trash anywhere. I was busy with different activities around and met some awesome people which is why I enjoyed backpacking Garden Route.
The Wild Coast of South Africa; the real Africa starts here. This was also the first time during my journey that I've been disconnected for quite sometime; over a week without internet and my soul feels even better than ever. Although it's good to get back online every once in a while to backup my photos and update the travel log. I don't mind being without internet and it wouldn't be a big problem if my phone (camera) gets stolen or lost but it would be awful to loose any pictures or videos innit; which is why I would love to keep all my pictures and videos backed up online every time it's possible.
Chintsa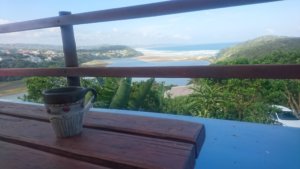 After staying for four nights in Wild Spirit backpackers I decided to continue my journey to Chintsa, Buccaneers Lodge & Backpackers. Hannes left two days before me and took a small detour to see Hogsback while I was still staying in Wild Spirit; we decided to meet in Chintsa again. I stayed overnight in Port Elizabeth to catch the next bus towards Durban next morning.
Chintsa is a small town in mountainous area next to the beach and lagoon. There are few shops and restaurants, and a brewery around. Great spot to begin the wild coast. Chintsa and Wild Coast, Eastern Cape feels more like a real Africa compared to Western cape (Cape Town, Garden route etc.)
It was very nice to meet this Australian mate named Russell. He's travelling solo by car which is why me and Hannes had a great opportunity to bum a ride from Chintsa to Mdumbi and Coffee Bay. It was way better option rather than taking the bus to Mthatha and additional shuttle service to Mdumbi & Coffee Bay.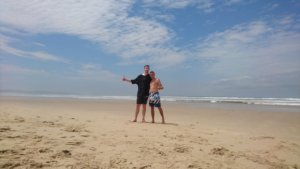 What about our perfect day in Chintsa?
We had a proper beach day, ran 8km on the beach by bare feet. Cooked an awesome lunch using some hardcore creativity skills since we didn't have that much food supplies with us at the time. After the lunch we made a visit to Emerald Vale brewery; drank some local beers and enjoyed the proper sunset. They had golden ale which was my favourite. We ended our day with dinner in local restaurant called C-food. Good seafood and nice atmosphere.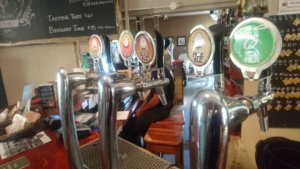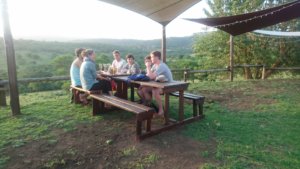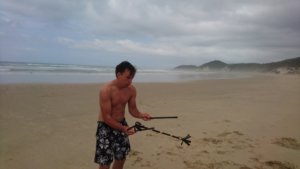 Chintsa Beach and Emerald Vale brewery. I bought a new set of devil sticks (70R) hand craft made by locals
We left Chintsa on Thursday afternoon and drove to Mdumbi which was around 5 hour drive. Roads are not in that good condition near Coffee Bay. There are many animals (mostly cows) crossing roads which is why you need to reduce speed (a lot!) and pay more attention to the road.
Mdumbi and Coffee Bay
Mdumbi is basically in the middle of nowhere and we arrived there on Thursday evening and stayed overnight. The backpackers is operated by the local community which made the atmosphere unique. The scenery is incredible and the lookout tower provided us some proper moments to chill. We also enjoyed a good braai and few rounds of drinking games with South African med-students from Cape Town.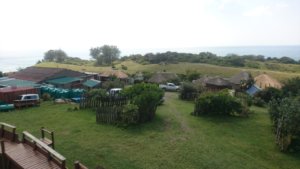 After the night in Mdumbi, we drove to Coffee Bay. The town is known of its cheapest surfing lessons in the world. The beach is good for surfing from beginners to more professional; it's also great place to chill. I didn't get proper surfing lessons yet but I tried to get some touch to the surfboard; caught some waves but couldn't stand… yet!
I wanted to book a dorm bed from the most popular lodge in Coffee Bay called Coffee Shack backpackers but it was already fully booked at the time. Which is why I decided to book a dorm bed in Sugarloaf which is another backpacker in Coffee Bay; it was a great choice and ended up staying there for 5 nights. 😀
Sugarloaf Backpackers, Coffee Bay, SA
I spent my time in Coffee Bay chilling, hiking, running, surfing, partying, braais, visiting Xhosa village and the local college. The backpacker is nice and situated next to the beach, river and hills. Sugarloaf is good alternative place to stay in Coffee Bay since it's located quite close to Coffee Shack and all other places around.
Sugarloaf and Friends (another backpacker around) are more chill compared to other lodges in Coffee Bay. You can arrange almost all same activities from Sugarloaf but if you're more for Surfing lessons; Coffee Shack is the best option.
After I arrived to Coffee Bay, first met the office manager of Sugarloaf named Devin who showed me some chill time in Sugarloaf. He told that he has already stayed over a year in Coffee Bay and wouldn't like to leave the place but he needs to return to Joburg after 6 months.
Another interesting person I met in Sugarloaf is Herman. He's working as carpenter/constructor/drummer/artist in Sugarloaf; real self-made man. The are many projects around he have done, and was doing; which some of he introduced me to.
Herman is also known of making good drums. He was featuring a band travelling through Coffee Bay. Freaking amazing!
Tips for budget travellers in Coffee Bay
Hike to hole in the wall: Free! If you do it alone, know where you're going and watch out for  any "hustlers" on the way. They are locals who try to sell services as local guides but not organised and probably over-charge you.
Surfboard rental @ Sugarloaf, 50 ZAR (boards were not in a good conditions at the time I was visiting)
Surf lesson @ Coffee Shack, 50 ZAR
Alcohol; there's a local tavern which sells alcohol for quite reasonable price. A big bottle of beer (700ml), 23 ZAR

or buy local Xhosa beer. 5 liter bucket for 7 ZAR. 😀 , it doesn't taste that good and I wouldn't recommend drinking it that much. 5 liters would probably cause you violent diarrhea

Cigs; a pack of RG cost only 15 ZAR
No ATMs. Credit cards are accepted in lodges but you'll still better have some cash around, so it's better to bring some cash
No supermarkets, only small shops with limited selection of groceries
Some thoughts after a month on the road
One month behind and eleven ahead. It has been easy to travel in South Africa, and without any remarkable problems on the the way. Now it's time to change to the next gear and travel to more difficult areas. I feel like settling in somewhere for a while and maybe volunteer in a backpacker to get more closure in the area and people around.
I have experienced heavy mood swings every once in a while but I think it's normal. The best thing you can do in the situation, is to chillax and stop thinking. If you feel bored or depressed, keep yourself occupied; write, read, talk to other people, listen to some music, walk, hike etc. My biggest problem is that I'm often very confused and kind of introverted in new places and situations; it usually takes quite sometime to feel comfortable enough to hang around and be "normal". This feels like some kind of social anxiety and it's something I have to practice to get rid off.