Heading to unknown without any actual plan or destination may sound uncomfortable but I think it's the proper way to travel. India was a month long crazy adventure for me and it's definitely a country that requires a lot of time and nerves to travel in. My story goes something like this…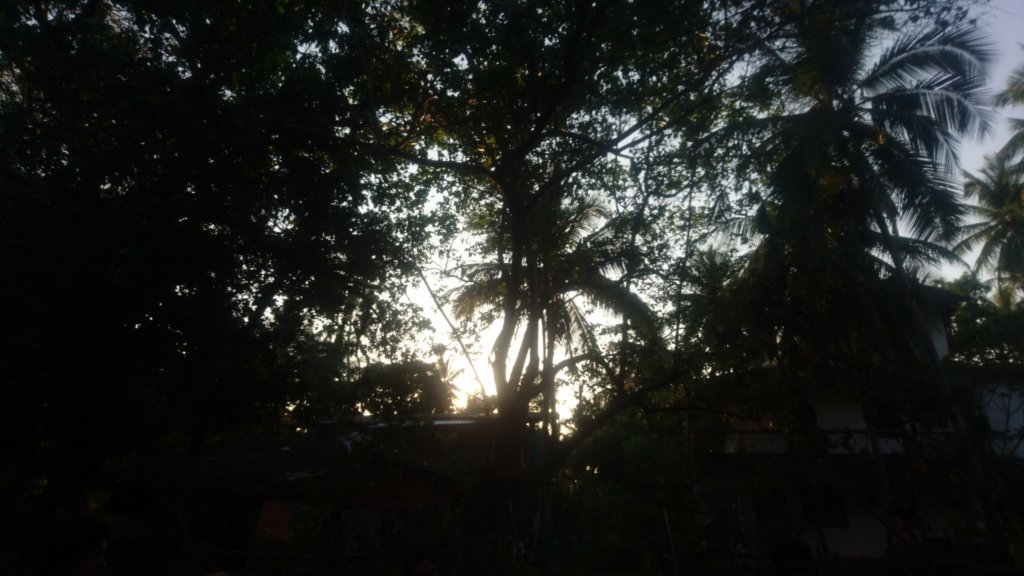 15.12.2016 – Paje, Zanzibar
I was chilling my last days in Zanzibar and planning my new year's eve but I was also quite worried to travel to Goa during Christmas since it was peak season and all accommodations were fully booked. Those that weren't, had increased prices over five times of normal rates. (dorm bed ~22 euros per night which is a lot!)
My friend Lily asked have I tried Couchsurfing? I hadn't even thought about that. CS has been one of my favourite services for many many years now, and it has been useful especially during my travels to meet locals and other travellers. I checked available hosts in Goa and found a profile called: No Name Free Hostel.
No Name Hostel – Keri, Goa
Free hostel? Yes! It's donation and volunteer based project in Northern Goa.  No Name offers free dorm beds, tents, camping etc. The following article explains the idea and people behind the project. http://www.thedandyalien.com/2016/12/16/no-name-free-hostel/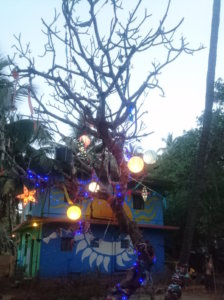 So how was my experience at No Name?
I took the night train from Mumbai to Goa on 22nd of December, and arrived to Pernem railway station next morning. After getting off the train I noticed how quiet and peaceful it was compared to Mumbai. A local bus took me to Keri/Querim which is located in the northern part of Goa. I arrived to No Name, unpacked my backpack and immediately felt like being at home.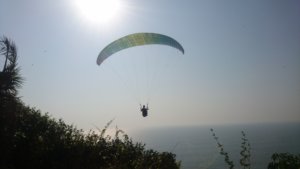 The atmosphere was indescribably incredible from the beginning till the end of my stay there. I felt like being a member of a big family of people around the world. Guests contributes to different projects, activities and tasks at the hostel. I took part in cleaning rooms, helping in the kitchen, building a fence & decorations, collecting firewood, entertaining with fire devil sticks and playing some chill out tunes. There were many parties at the hostel but we also went to Shiva Valley, Anjuna as a big party family to enjoy flow arts, music and dancing till sunrise.
No name is a place for creative and free spirit souls. It's also a place where you can get stuck for months if you're not on a tight schedule. I only had 30 days e-visa in India, which is why I continued my journey after a week and a half there. All in all, this was one of the greatest experiences that I had in my whole life. No Name is definitely the best hostel I have ever stayed at!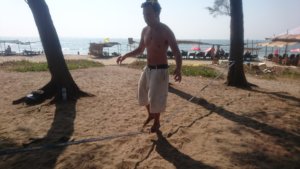 From Keri to Hampi
Travel tip! The cheapest way to travel around India is to take local buses. You can easily travel hundreds of kilometres with paying less than few euros. This is not the most comfortable or safest way to get around but you'll get the best experience of travelling around India. It's also quite easy; you'll just need to go to the local bus station and find a bus heading towards your final destination but be prepared to change buses multiple times on the way. You'll probably need to ask from conductors at the platform area; where and when the next bus is leaving. I visited few stations without any written information available nor everything was written in hindi.
Always double check where the bus is actually going. Quite many indians tell inaccurate answers to foreigners since they don't know the answer and probably just want to show that they know the answer. 😀
While I was staying at No Name, I heard about Rainbow Gathering which took place in Hampi. I decided to travel there with my indian friend Venkatesh aka Winky. We began our journey from No Name Hostel on 2nd of Jan. Founder of No Name (Ankit) was kind enough to drop us to the next city: Arambol, from where we took a bus to Mapusa. From Mapusa we took another bus to Panjim. We had a dinner in Panjim and took another bus to Hubballi. We slept few hours at the bus station in Hubballi, and took another bus to Hosapete. From where we took the last bus to Hampi, and arrived there approximately 24 hours later since we left Keri, and paid around 250 INR in total ~4 euros. 😀
Almost there?
The meeting point was set to Baba cafe which is located near Hanumanahalli. We had to cross the river (Tungabhadra) to get there. There is a boat service crossing the river every 15 minutes, and it costs 20 INR but we also saw that there was not too much water in the river and we could "easily" cross the river by foot. That may have been miscalculation since I had 15 extra kilos (my backpack and daypack) on me, and I was a bit tired and didn't pay too much attention to my surroundings. My first step into the river and something penetrated my right sole.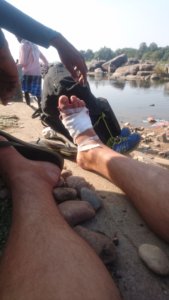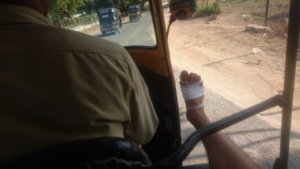 I didn't see properly was it a piece of glass or sharp rock but it made very deep cut to the bottom of my right foot. There was no possible way that I could walk within a week which is why I chilled in a good company at Rainbow gathering.
Hampi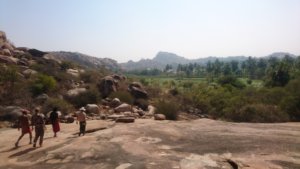 Hampi is located in Karnataka, southern India and it's one of the chillest and unrealistic towns I have ever visited. There are many ancient temples and dozens of huge rocks around which is why it's famous spot for bouldering. Small roads, monkeys, a world heritage site, quiet atmosphere and unrealistic scenery. Everything summed together, I would highly recommend visiting!
The best idea is to rent a scooter and hop from a temple to another, and explore ancient ruins and abandoned temples.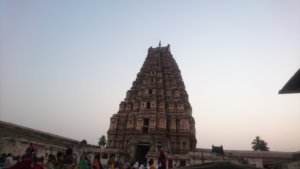 Rainbow Gathering
This was my first time at Rainbow gathering and being part of Rainbow family. People were extremely nice and helpful, especially considering that I was being handicapped and wasn't able to participate in any activities. There were many things to do: help prepare the food, water missions, yoga, talking circles, workshops, singing, dancing etc. No pictures, electronic devices, alcohol or spending any money at the site was allowed.
Local authorities of Hampi/Hanumanahalli were not too happy of the rainbow gathering and we were forced to change the location. There were around 60 of us left and we organised two small trucks heading to Kodaikanal.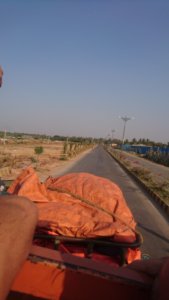 Traveling solo again
I woke up in the middle of the night from back of the truck; felt extremely cold and couldn't feel my legs. After 24 hours in fully packed truck, I decided to say goodbyes to the family and head to unknown by myself. They dropped me off at Chamarajanagar and I jumped to the next local bus that was going to Sathyamangalam. It was time to find some decent accommodation for a long time and I decided to stay a night in Sathyamangalam. I didn't see any other foreigners in the city and locals were curious of what I was doing there.
Mettupalayam – Ooty – Coimbatore
I had a good night sleep and it was time to continue the journey to the mountains. On previous day I talked with a local who recommended that I should visit Ooty. Two more busses from Sathyamangalam to Mettupalayam and from Mettupalayam to the mountain town called Ooty. It was very cold (especially during the night) but the scenery was beautiful and non-like other Indian cities, there was not too much trash around the area. I tasted some local cuisines and visited local bazaar, all in all; I had too short visit there (1 night) because I was in hurry to get to Chennai to catch my flight to Bangkok. The best thing you can do around Ooty is to hike around but I didn't have enough time to do that.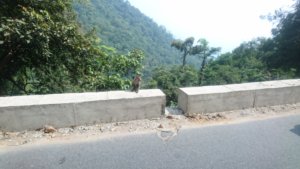 The next day I was already on my way to Coimbatore where I had a day to explore around. I met a guy called Raju. We didn't have any common language since he spoke only few words of English and I don't speak any Hindi. Somehow I found myself in his house with his brothers and friends having nice homemade meal and watching bollywood movies.
From Pondicherry to Chennai
I took a sleeper bus from Coimbatore to Pondicherry where I had two days to explore around. Pondicherry was a french colony and it can be seen from the architecture and various cafes selling french delicacies. There were many indian tourists around since it was public holiday; the city was way too crowded for my taste. Luckily I met some locals and had a good time there as well. After few days in Pondicherry, I took a bus to Chennai and flew to Bangkok.
Don't ruin your trip to India
Why do you either hate or love India? This really depends on what kind of person you are, what are your expectations and how far out of your comfort zone are you willing to go. India is a country of contrasts and extremities. There are ways to make an easy organised holiday in India but to actually travel and experience India properly, you'll need to integrate with the culture. I'm not going to list all cultural differences here since there are thousands of articles explaining these.
I made the biggest mistake during my last weeks in India by rushing from one place to another, it takes a lot of energy! If you have limited time to travel in India nor visa only for 30 days, just enjoy few places and don't rush. I also spent way too much time in crowded cities listening constant honking and unnecessary noise (älämölöä in Finnish.) All these combined were the reason why I started to "hate" India in the end of my trip but still wouldn't say that I actually hate India. Last weeks were just too much to my head. India is difficult country to travel which is why I recommend to chill enough to enjoy your time there. I still love India but the next time I travel there, I'm going to have at least 3 months visa.
Some thoughts after four months of travelling
Four months behind and probably around eight months ahead. This journey has definitely already changed my personality in many ways but not in a bad way. I have learnt a lot of myself and the world around me. My days have passed by exploring around, learning new cultures, languages and talking to many people from countries around the world.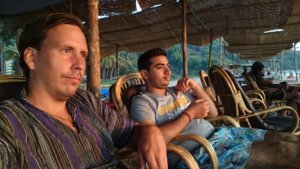 Travelling is not all about partying and having fun, it's also about facing troubles and uncomfortable situations. I have had many small cuts around my body, flus, hundreds of mosquito bites, some stomach problems, lost and broken stuff etc. There have been many situations that haven't went in the way I wanted. I have learnt a lot of these situations and stopped caring about all stupid first world problems that my mind and expectations have created. Not having a hot shower, machine washed clothes or toilet paper for months have made me appreciate simple things that are considered basics in developed countries. These situations, these incidents and this lifestyle have not killed me, they have strengthen my mind and body.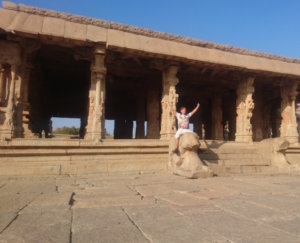 Am I getting bored already? No… because I have kept myself occupied enough, otherwise I would feel braindead and crying to get back home to my daily routines already.
There are dozens of activities to exercise your brain: read books, play chess, write and try to be productive. I loose track of days every now and then but it's normal considering that every day feels like Saturday. Having a regular schedule every once in a while by volunteering and helping around is not a bad idea either because you'll have some balance between "work" and fun; and still have the pleasure of travelling.